Propel Organizational Growth
Develop the Ideas and the people to propel them
We provide intense, structured, innovation & leadership development programs that deliver new products, services and processes, and the leaders prepared to drive similar results across the organization.
As Teams of high-potential employees work to solve growth and innovation challenges for their businesses, individuals develop leadership capabilities through our experiential learning model. With guidance from dedicated executive coaches and mentors, participants learn to "think like executives." Practicing leadership skills including scenario-based thinking, strategic alignment, organizational networking, influencing others, and team effectiveness as they grow their business.
Our programs are fully customized and can be adapted for individual business units, multiple units within a single organization, or multiple units across multiple organizations.
Develop Leaders who innovate
Learning Through Success
This is the cornerstone of our program. After an in-person session that introduces the task and core concepts, teams develop a project idea, actively engage with their executive sponsors and receive expert guidance from us. At the end of several months they present a business innovation to their executive team. This immersive approach ensures that participants learn how to conceive and execute a new business idea with the benefit of real ROI for client companies. All of our programs contain these key elements:
Core foundations curriculum
Active executive sponsorship
Performance coaching
Network building
Learning through real-world application
Motivation from business impact
We seamlessly integrate skill development and performance coaching. Participants find themselves in a unique situation demanding new ways of thinking and acting but also freeing them to experiment.
We use our experience of having coached over 100 teams through our process to determine what is needed at a given time. No matter how good a team is we strive to make them better.
Our typical program begins with three to five days of core curriculum that includes sessions on strategic thinking, understanding your customer and managing teams. During the team's innovation project work, we communicate with them on both a scheduled and as-needed basis. We are on-call 24/7 for the entire duration of the program. We are skilled educators – we tune our communication with the team to the medium, frequency and tone to which they respond best.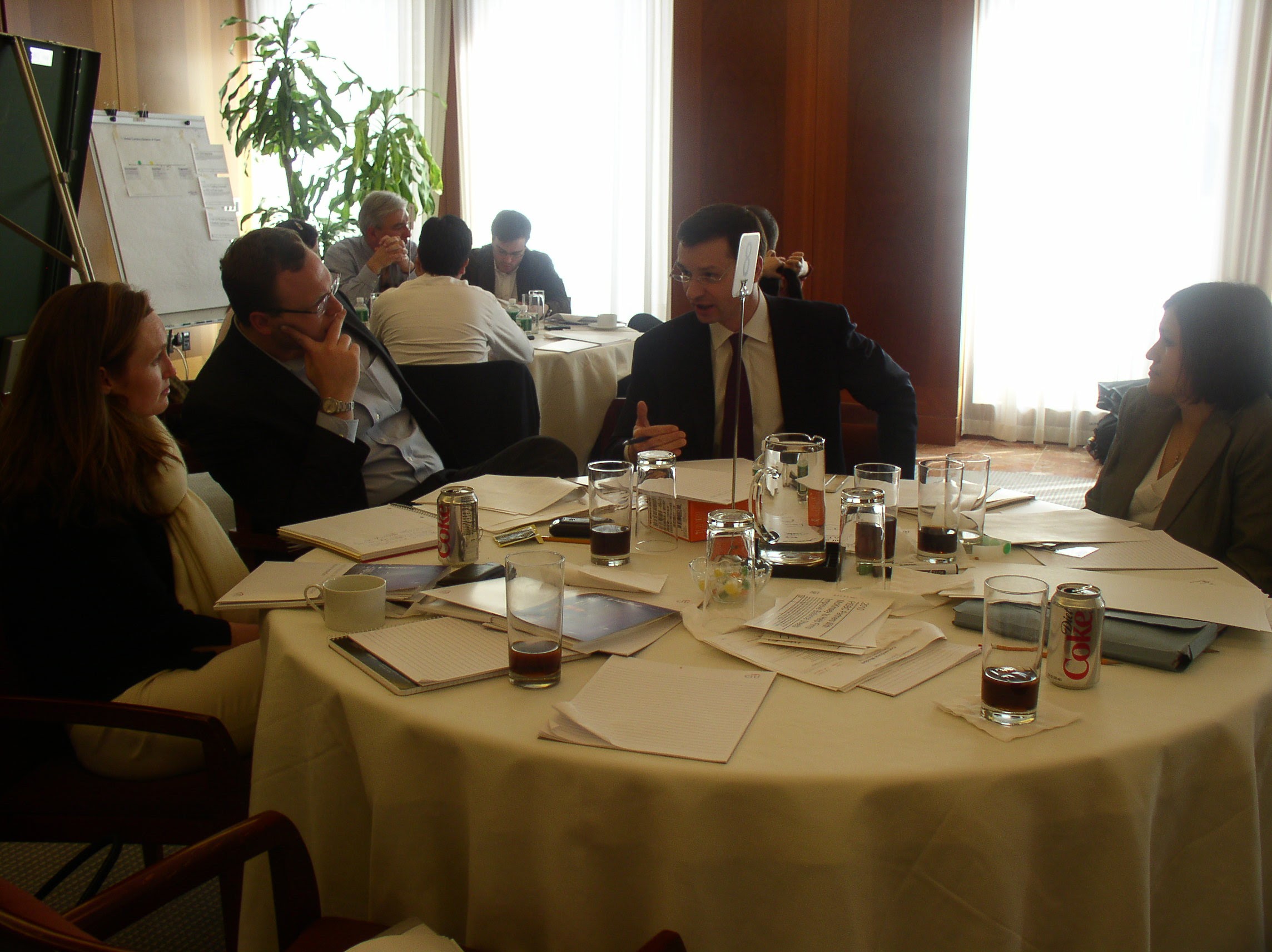 Ready to get started? Want to learn more?
Leadership Development for High Potentials
High-potential employees see opportunities but typically lack the perspective, the skills, or the organizational knowledge to get from idea to reality. We help them build those capabilities while they deliver tangible results.
We design and execute a custom program for your leaders that gives them the experience of driving an innovation from idea to business plan while ensuring that they develop such leadership skills as strategic thinking and collaboration. The program serves your talent development and retention goals and reflects your current and future business, your corporate strategy, and your culture. It also pays for itself.
Many companies think of leadership development programs as a cost center or, at best, an investment in their talent. Our clients think of it as a revenue source. Examples include:
A new trading desk that captured millions of dollars in revenues previously being handed to competitors
A new way for emerging markets retailers to reach ex-pats and expand internationally
A way for large consumer products companies to collect cash from small retailers via mobile banking
A new method for pricing a product that made it highly competitive without reducing margins
An internal application that radically reduced the time and effort required to match rapidly changing inventory with customer profiles
We focus on the skills that have proven to be most critical and most difficult to learn except from experience. The difference between our programs and other innovation training is the difference between participants saying "I've learned some good techniques I'd like to try out" and saying "My team did it, that product is ours, and I could do it again." Learning through success gives top talent the challenge and the reward they need. As one client said "innovation is about believing that it can be done." From their experience, participants take that belief back to their day jobs – they become innovation leaders.
Successful results depend on two things: creating the right environment and providing teams appropriate and timely support. Our clients find that our total focus on these two factors makes the difference.