A trusted partner for talent driven organizations
Mohr Collaborative helps organizations prepare their emerging leaders to recognize opportunities, drive innovation, and deliver long-term organizational success. At the heart of Mohr Collaborative is our commitment to empower individuals to lead, create and grow effectively.
We help people and the organizations they work for experience their greatest potential. Encouraging, guiding and teaching them to capitalize on personal and professional opportunities that deliver sustainable competitive advantage.
Mohr Collaborative is a trusted partner for talent driven organizations preparing their emerging leaders to recognize opportunities, drive innovation, and deliver long-term organizational success.
NEW DESIGN THINKING WORKSHOPS!

Create and launch groundbreaking solutions that anticipate and meet customer needs.
Our half-day and full-day workshops uniquely combine coaching with the award-winning ExperienceInnovation™ simulation co-developed by our partners IDEO and ExperiencePoint, to help you create a culture of innovation where great ideas become great solutions that deliver powerful impact.
What We Do
Help businesses grow by teaching & coaching the people who make growth happen.
Mohr Collaborative fuels growth by unlocking the potential of promising leaders. Our programs embed leadership skills development inside real experience driving new opportunities for growth. A proven approach that satisfies high-potential talent's need for challenging opportunities and continuous feedback.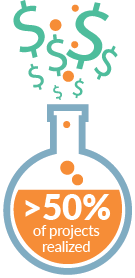 Traditional leadership development programs promise improved performance, but their impact is hard to measure. For over 10 years, Mohr Collaborative has delivered performance improvements, plus real impact in revenue, cost savings and increased talent retention. The results pay for the program many times over.

Our holistic approach combines coaching with active learning
Team Coaching
Coaches monitor and guide team effectiveness and mentor teams through project completion

Individual Coaching
Performance feedback from highly trained coaches – typically reserved only for executives.
Skills Development
As they identify opportunities to grow revenue or reduce costs, build their case, and get buy-in, participants develop skills such as strategic thinking, data analysis, effective communication & organizational awareness.


Innovation Projects
Teams receive critique and guidance from executives and coaches while developing solutions that generate revenue, reduce costs and increase efficiency.
Learn how we can help you!
Fill out this short form and a specialist will contact you for a FREE consultation.
[contact-form-7 id="5069″ title="Free Consultation Contact"]
Testimonials
Diane Arber

Managing Director, Senior Human Resources Officer
"Mohr Collaborative has been a trusted advisor and partner for several years.  Their ability to understand our challenges, help us drive our innovation efforts and develop our future leaders has been invaluable."
Mali Bartlett

Global Head of Investment Products
"As a sponsor, I got as much out of it as the participants I was working with did. To see the raw material from ideation with all of the questions and uncertainties to where they took the completed project, it's been absolutely awesome."
Suresh Bajpai

Managing Director, Global Head of Commercial Banking and B2C Flows
"The quality of the work that our participants produced and the program itself was outstanding.  It helped our young VPs from across the globe work together, challenged them to grow – that was the real differentiating factor.  They were learning, creating a common language and perspective and generating business ideas that resulted in impressive ROIs."
Joseph Weldon

Managing Director, Head of Global Learning and Development
"Mohr Collaborative made sure they understood our business thoroughly – the culture, the structure, the internal silos, the business strategy – and worked with us to design and execute a program that serves senior executives, business heads and high-potential talent. The results speak for themselves and each year they get better."
Kathleen Goldreich

COO and CCAR Coordinator, ICG Risk Management
"The ROI for the programs we run with Mohr Collaborative is realized in real revenue growth and that's why we continue to run the program year after year."
Global Transaction Services Team

"Thank you for the incredible support you gave us throughout the program. Your insights, encouragement, and direction were priceless. The team learning that was generated despite our day to day work activities and different time zones was fantastic. The process of identifying a business opportunity and creating a value proposition around it has prepared each of us for our next leadership roles. We now have a culture of entrepreneurial thinking ."
ICG VP Development Program Team 13

"Thank you for your help, time and support over the last three months. The guidance and feedback provided was valuable and ultimately led us to a successful proof of concept and presentation. The VP Development Program has been a great experience for us all and we are equally as excited about seeing this concept forward and to implementation. Thanks again for keeping us on track, providing a good amount of 'tough love' and helping us thrive as a team."
Kurt Dzibela

"Thank you for your time, leadership and the experience of this program. Although challenging, it has helped immensely with the navigation and building of a network here within Citi along with being able to depict and sway opinions to keep focus on a common goal."
James M. Bailey, CFA

Vice President | Relationship Manager
"I've participated in a few different leadership training courses over my career, I can say with confidence that this 'live action' training was much more valuable than the others combined in large part to the coaches, especially Glen and Ilyse, who were fantastic.
"Again, thank you for the opportunity to participate in this program. I have four new close friends from different areas of the organization and got to meet several more people I wouldn't have otherwise had the chance to interact with thanks to this program. It was challenging, enjoyable, rewarding, and valuable."
Michael T. Hoey

Vice President - Relationship Management
"Thank you for all of the work and effort you put in to making the VP Development Program a great success. I enjoyed the entire process from unsuccessfully trying to build a slingshot at opening week to preparing to present to the Seniors yesterday. I learned a lot about not only Citi but about myself and how I can improve to become a better leader."